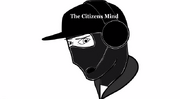 The Citizens Mind is a mind series created by a user who goes by TheGentlemansShadow on YouTube, following the mind of the as-of-yet unnamed silent protagonist known simply as The Citizen.
Series Personality
Edit
The Citizen is mostly a sarcastic British man, who, according to the first episode, may be a bit of an alchoholic. He also appears to get distracted easily. Not too much is known about the Citizen, other than that.
Show History
Edit
The first episode was aired on the 8th of October, 2010, and it ended the same day/month the next year. The second series started on the 12th of February, 2012 and possibly ended on the 15th of February 2013.